Writing Program Tutors for Undergraduate Students
Daisy Buller
Hi, I'm Daisy! I'm a double major in art and psychology as well as a member of the women's\triathlon team. When I'm not doing schoolwork, I might be practicing violin, reading, or blasting music while I'm running. For years I've enjoyed writing but some of my college assignments were a little more challenging than I expected, and I've had to learn how to develop my own writing process. This isn't to say that I have it all completely figured out, but I'm here to help you in any way I can and help you discover what works best for you when it comes to writing!

To schedule an appointment with me, find my availability through Navigate, or contact me at daisy.buller@emu.edu.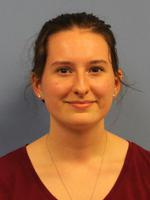 Greta Schrag
Hi, I'm Greta! I'm a political science and sociology double major with a minor in community organizing and development. I love all things music and theatre-related, and you can usually find me involved in some performance. I've always enjoyed academic writing but struggled with it when I first came to college. I've realized that writing is a process, and we're constantly growing and learning new things--I'm here to be an extra set of eyes and help you grow as well!


You can find my availability and schedule an appointment with me through Navigate, or contact me at
greta.schrag@emu.edu
.