Mennonite Church USA has named Clara Weybright '20 as this year's #BringThePeace Young Peacemaker awardee. She joins John Stoner, who received the Legacy Peacemaker award. The awards are sponsored by MC USA's Church Peace Tax Fund.
"The #BringThePeace award is a way to recognize the work of denominational peacemakers who are walking the talk in their peacebuilding journey through their active engagement in promoting peace in their congregations and communities and, often, beyond," said Lorraine Stutzman Amstutz, the MC USA denominational minister for peace & justice.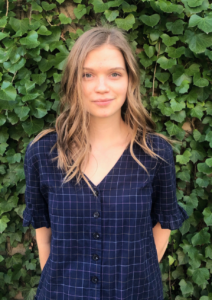 Weybright is currently a Juris Doctor (J.D.) candidate at Temple Law School, in Philadelphia, Pennsylvania. She studied environmental sustainability at EMU.
Previously, Weybright was a climate futures fellow at the Center for Sustainable Climate Solutions (now the Anabaptist Climate Collective) and worked with the MCC National Peace & Justice Ministries in Washington, D.C. With these organizations, she researched and wrote climate policy through a peace and justice lens. She was also a member of the Mennonites against Militarism council, and as such, she worked to connect the impact of militarism on the environment.
"There are a lot of ways to get involved. You don't need to be doing what we stereotypically think of as the 'in in the thick of it' work, in which all of our professional lives, personal lives and spiritual lives intersect with peace and justice," Weybright said. "It's a matter of just knowing where to start."
For more information on MC USA's peacebuilding efforts, click here.